How does Metric Theory take someone with zero digital marketing experience and turn them into a savvy and effective digital marketing account manager? At Metric Theory, we say that our product is our people, and so we invest heavily in people development to drive strong marketing results. Our unparalleled dedication to hiring the right talent, a thorough training program, and providing tons of hands-on experience all contribute to success. In addition, we focus on development and provide frequent feedback to all employees in order to produce great marketing results and happy employees.
Hiring the right people
Before we invest in extensive training for our new employees, we focus on hiring well-rounded individuals with a potential for greatness. We have a separate post on the 5 qualities we look for when evaluating any new candidate. Most important is a drive to learn and the willingness to accept and act on feedback – with these two qualities anyone in our training program can become a solid account manager.
Analyst Training Curriculum
Our ever-evolving training curriculum contains 70+ modules spanning topics from digital marketing 101 to advanced client communications. We begin our curriculum with PPC basics, and then move on to trainings in advanced business concepts, Excel, data analysis, web analytics, and much more. Metric Theory founders, VPs, Directors and other senior staff lead the majority of trainings, ensuring that our new hires benefit from the many years of marketing experience at MT.
Our approach for teaching any new topic is "concept, practice, repeat, master."  Our trainers deliver a training deck to cover the concept, and follow it with a practice assignment or workshop. After receiving feedback on their practice assignments, analysts continue to practice their new skills with increasingly complex assignments. If that sounds like a lot of work – that's because it is! Our training program has graduated dozens of marketing rookies into top-performing marketers.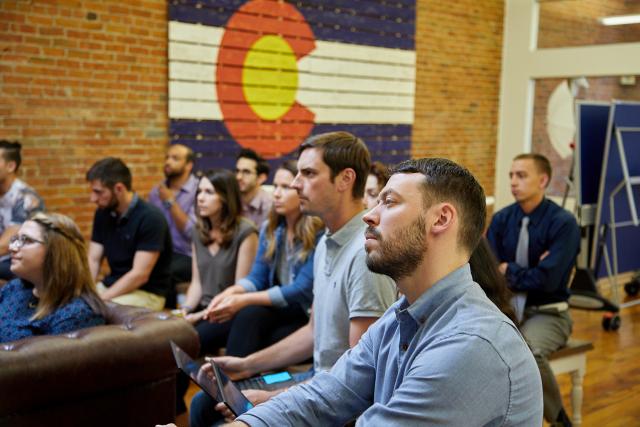 Hands on Practice
After training on foundational marketing concepts, each entry-level analyst is paired with several account managers who assign work to the analysts. Analysts practice the concepts they are learning on real accounts, while receiving direct oversight from experienced account managers who provide comprehensive feedback and help to hone more complex skills. This early exposure to live accounts prepares analysts for situations they will face upon receiving promotion to Account Manager.
Focus on Client Services
Communications training is one of our more challenging modules to teach, as different styles of  communication can be equally effective. Client communication also requires active listening skills and an ability to think on your feet, as we can't predict every client scenario. For those reasons, most of our communications training involves mock calls that imitate real-world scenarios account managers face every day. Our mock call scenarios cover everything from how to answer basic digital marketing questions to working with different personality types.
Metric Theory account managers and senior managers, who are themselves in touch with clients each day, play the role of "client" in our mock calls to make them as realistic as possible. Following each call, the analyst has a one-on-one feedback session with the call leader to debrief and discuss learnings and areas of improvement. This intensive focus on client communications prepares our account managers to represent Metric Theory to all types of clients in any situation.
Feedback and Performance Reviews
Frequent feedback is an important driver for improving skill sets and providing top notch client service, and is an important element of the development of every Metric Theory employee. Analysts receive frequent and robust feedback from their trainers on practice assignments to cover what they did well and what they should focus on improving in the future. Account managers that work with analysts also provide feedback on every completed assignment and uphold Metric Theory's high standards for client service.
Each analyst also receives a quarterly 360 degree review from their direct manager to review their ramp, strengths, and areas of focus. These reviews help the analyst identify larger opportunities for improvement and help them better understand expectations for advancement.
Metric Theory's training program is one of the most vital parts of our business and has allowed us to grow from 5 people to over 90 in just 5 years. We're so dedicated to this program that several senior employees contribute more than 50% of their time to overseeing analyst training, and nearly all employees participate in analyst training at some level.