When you begin creating a solidified B2B digital marketing plan, most of the time you will hear, "New leads! New leads! We need new leads!" As a result, you can be left scrambling trying to find the hottest new keywords, untapped themes, top relevant audiences, or best website content for display. While this immediately addresses the "new leads" dilemma, many advertisers are left without a plan for what to do with users who are already familiar with their site.
A basic remarketing plan consists of remarketing to website visitors. These people are brand-aware and are likely ready to engage with your sales team. Sending all site visitors to the same call-to-action and calling it a day is a missed opportunity. Think about how you can segment the remarketing pool. When thinking about remarketing audiences, the funnel still applies, and can even determine more specific next steps that you need to take: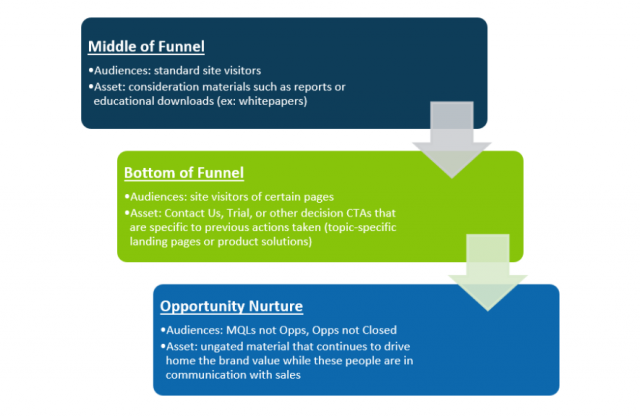 Throughout this blog post, we will be exploring how to develop a strong digital marketing strategy based on each of these three funnel placements that creates a nurture program conducive to user journey.
Middle-of-Funnel
This segment of remarketing audience members is much closer to what is considered "traditional remarketing." Here is where you will look to target general users who have been to your site. As we have discussed, time decay audiences (i.e. 3, 7, 15, and 30-day segments) allow you to determine the value of users based on the average time lag to convert for your site. This level of segmentation allows for more accurate data pulling and the opportunity to determine in which window(s) it is most effective to remind users of your brand. Your ability to measure success based on these day segments can directly lead to improved success of your programs.
Because these users are brand-aware but are not tied to a specific product or section of your site, it is most effective to serve them with a more general piece of content that would educate them further. Here, we have found assets such as product demos, detailed reports/whitepapers, or industry outlooks would be most effective, as these assets will directly speak to the value add or solutions-driven results for which these users are likely ready.
Bottom-of-Funnel
After targeting general site visitors, it is important to determine further segments that are deemed important for your business or lead to better lead organization as identified by your sales team. To properly group together users in this way, you will need answers to the following questions:
Are there different solution offerings to my business that we have broken out?
Are there solution-specific URLs or landing pages that exist for these different offerings?
Are certain solutions more valuable or competitive than others?
Is there enough volume of users to segment our audience pool in this way?
Once you have answered these questions internally, you might be ready to determine your best audiences. However, these audience members will likely need a more specific path to conversion than the average visitor. They have already shown intent by engaging with certain pages on your site and you have already identified these pages through eligible URLs; from here, a tailored content strategy starts to take form.
You likely already have a general trial or demo offer to which you are directing branded traffic. This is probably an asset that the sales and marketing teams have labeled as a high quality, outreach-ready action. How can you make this even stronger? By changing the messaging on your creative to be more specific to the solution offering for these audience members, you are more likely to drive a higher CTR and get more qualified visitors to the page. For example, if you have a 'cloud solutions' product page that you have identified as a quality audience for remarketing, your image ad might read "Improve Workflow with Cloud Solutions for Top Tier Companies – Get Started!" Someone who has been to the cloud solutions page will be more likely to click on this ad than they would on more generalized image text.
Even further, if you have specific demos or trials that are tied to the top solutions you have identified, this would be a great testing opportunity. Tailored bottom of funnel assets are the ideal course of action because once the user clicks on the copy that speaks to them, they are then brought to a page that continues to fill their needs – this creates a strong user experience.
Opportunity Nurture
Once you have driven users to the bottom of the funnel to your most valuable conversion action, the rest of the job belongs to sales, right? Not necessarily. When prospects are in the midst of a trial, discovery, or opportunity stage, there are still plenty of chances to engage with them.
You wouldn't necessarily want to double up on bottom of funnel assets or trial/demo requests, but this is the perfect time to continue establishing your brand as an important resource to these users. Audiences will be much more specific for this tactic, focusing specifically on contact list uploads of MQLs, open opportunities, etc. to make sure you are getting in front of the right people. To broaden the scope, you can also use LinkedIn targeting for qualified job titles, job functions, or job seniorities at companies that fall under this stage.
The largest hurdle here is determining the content you want to use. Different from other areas in the remarketing funnel, these assets can also be ungated or part of the typical website experience (not SEM-specific landing pages). Why would we get this far just to send people back to the website? Because this value-driving stage of the process is largely focused on communicating benefits of your services that are likely already available through a Resources, Case Studies, or Articles section of the site. Your job is to take the guesswork and navigation out of the equation and have these assets readily available upon ad click. The best questions to ask when finalizing the content roadmap here include:
What are the most common reasons why you close deals? Why do you lose deals?
What is the ROI that you provide companies?
Do you have any strong company case studies displaying your value?
Are there any credible third-party reports that have labeled you as a leader?
After answering these questions and creating your content roadmap, it will be important to have consistent communication with sales to determine the effectiveness of this strategy and understand how you can use winning messaging to continue helping drive deals or adjust losing messaging to minimize the number of deals lost in the future.
Conclusion
The goal of this strategy is to increase the fluidity of experience offered to potential customers in a way that brings together strategy for marketing, content, and sales teams effortlessly. The end product will give a huge opportunity for feedback that will, in turn, help keep prospects interested and arm sales with the tools needed to give the best users the opportunity to have fruitful conversations that will drive more revenue.