If you're looking to test new prospecting audiences across YouTube and Display campaigns that are designed for both upper-funnel and lower-funnel targeting, Infinite Taxonomy Audiences could be a new audience segment to test!
What are these audiences, and what makes them unique?
Infinite Taxonomy audiences are dynamic "Built by Google" audience segments with over 50,000+ to choose from. Google created these audiences using the same technology they use to create affinity and in-market segments. These dynamic audience segments are continuously refreshed with relevant consumer interest and behavior signals.
Since these audiences are created by Google you don't have to refresh the keywords within the audience like custom intent since they are continuously capturing signals from Google properties like YouTube, Gmail, Google Maps, etc. Compared to affinity audiences that are based on habits and interests, infinite taxonomy contains a breadth of categories from awareness to consideration to action.
Where do I find these audiences?
When you visit the Audiences portal, you'll see audiences called "Custom intent audience: auto-created." You can find these by looking at the ideas section or by typing in a keyword relevant to your business.
Recommended infinite taxonomy audiences: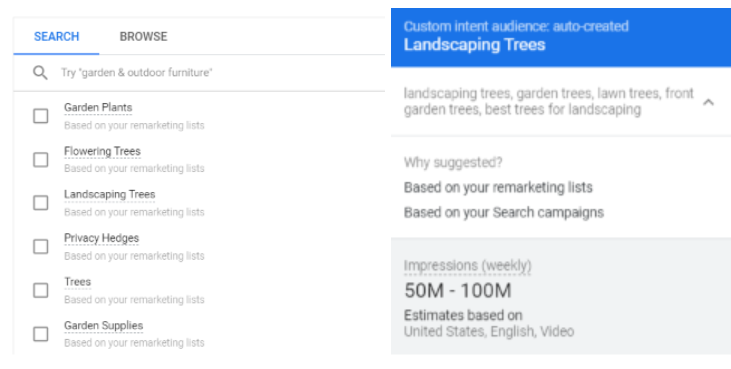 Where should I start?
If you're unsure which audiences to select first, start with the most relevant to your business that demonstrate the most intent. For example, if I'm in the plant business, I would prioritize the "Garden Plant" audience over "Garden Ideas" since the intent and keywords within the audience vary between garden improvements and purchasing plants.
Garden Plant Keywords: garden plants, outdoor plants, plants for sale near me, outdoor garden plants, plants to buy
Garden Ideas Keywords: garden, garden makeover, garden improvements, garden with home, garden more
Example YouTube Campaign Performance: Infinite Taxonomy vs. Custom Intent
In the table below, we ran 2 YouTube Video Action prospecting campaigns to test between relevant infinite taxonomy audiences and custom intent using the same video content:
Infinite Taxonomy had 6 audiences composed of relevant topics
Custom Intent had 3 audiences: top 50 non-brand search keywords, "buy online" keywords, and competitor keywords
The infinite taxonomy campaign generated 55% more conversions with 34% more revenue leading to a 35% more efficient ROAS and 36% decline in CPA. Overall, we saw stronger efficiencies from this audience type compared to custom intent.
If you need help with infinite taxonomy audiences, reach out to us today!